Actor
Alan Tilvern
Born
5th November 1918
Died
17th December 2003 (aged 85)
First appearance
Battle School (television), Battle School (radio)
Last appearance
My British Buddy (television), We Know Our Onions (radio)
Series
3 and 6 (television), 1 and 3 (radio)
Episode count
2 (television), 2 (radio)
Alan Tilvern
 (5th November 1918 – 17th December 2003) played various characters in the 
Dad's Army
franchise.
Biography
Edit
Early life and career
Edit
Alan Tilvern was born in London. After leaving school he became a barrow boy in the East End's Brick Lane. He served in the Army during WWII, but was invalided out in 1945. In his first field of work, he worked down his local market, before starting his entertainment career as an amateur in variety. At the local boys' club, he wrote, performed and directed for various productions.
Early acting career
Edit
Turning professional in his twenties, Alan started acting for three months at the Manchester Rep and then a whole year at Oldham. After various theatre tours, he moved into the world of television and was employed very often, due to how well he could do foreign accents, particularly Americans and Russians.
Dad's ArmyEdit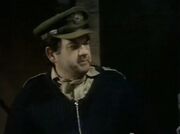 Alan played the Spanish
Captain Rodrigues
in both the television and radio versions of Battle School. He also voiced the American
Colonel Schultz
in the television version of
My Brittish Buddy
and the Scottish
Captain Ramsay
 in the radio version of
We Know Our Onions
.
Other acting work and later career
Edit
He has also appeared as Amercian characters in various Hollywood films, such as Little Show of Horrors and Who Framed Roger Rabbit.
Final years and death
Edit
Alan Tilvern died in London, December 17th, 2003, aged 85.
Community content is available under
CC-BY-SA
unless otherwise noted.