Actor
Avril Angers
Born
18th April 1918
Died
8th November 2005 (aged 87)
First appearance
The Lion Has Phones (television),

Under Fire

(radio)
Last appearance
Put That Light Out! (television),

The Two and a Half Feathers

(radio)
Series
3 and 4 (television), 1 - 3 (radio)
Episode count
2 (television), 5 (radio)
Avril Angers (18th April 1918 – 8th November 2005) played various characters in the Dad's Army franchise.
Biography
[
]
Early life and career
[
]
Avril Florence Angers was born in Liverpool in 1918. At the age of 14, she made her debut as a dancer with the Tiller Girls. During WWII, she joined up with ENSA.
Early acting career
[
]
By 1944, Avril had become a stand up comic and an actress. She made her West End debut in Keep Going at the Palace Theatre. In 1946 she made her screen dedut in Cabaret.
Dad's Army

[

]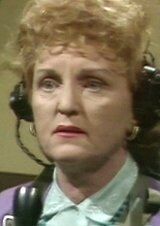 Avril first played a telephone operator in two television series episodes, The Lion Has Phones and Put That Light Out! She was iconically known to the public for her radio work, so it was not long before she was working on the radio series of Dad's Army as well. As well as reprising her role as the telephone operator, she also took over the role of Mrs. Keen from Queenie Watts in Under Fire. In Brain Versus Brawn, she took over the role of the waitress from Maggie Don and also played a policewoman which replaced Bill Pertwee's role from the television version. She then took over role of Edna from Queenie Watts in The Two and a Half Feathers.
Other acting work and later career
[
]
Avril later appeared in one episode of David Croft's other sitcom, Are You Being Served?.
Final years and death
[
]
Avril Angers died of pneumonia in London on November 8th, 2005. She was 87.
Trivia
[
]
She appeared with Mollie Sugden,

Frank Thornton

,

Wendy Richard

,

Arthur English

, Harold Bennett and 

Penny Irving

 in the same episode of Are You Being Served?.