Actor
Barbara Windsor
Born
6th August 1937
Died
10th December 2020 (aged 83)
First appearance
Shooting Pains (television)
Last appearance
Series
1 (television)
Episode count
1 (television)
Barbara Windsor played Laura La Plaz in Dad's Army.
Biography
[
]
Early life and career
Barbara Windsor was born and grew up in the suburb of Shoreditch, London, where her father was a bus conductor and mother was a dressmaker. Whilst still a girl, as soon as Barbara appeared in a production at her dance school, she knew her place was in the acting career.
Early acting career
[
]
After studying at the Ada Foster acting school, Babara started appearing in various productions produced by Joan Littlewood who also employed Jimmy Perry in his early career. Barbara even appeared in the American tour of Littlewood's version of Oh, What a Lovely War! which then got her face well known in the USA. She made her film debut in the 1954 comedy, The Belles of St. Trinians, but her appearance in Sparrows Can't Sing was that which got her recruited by Peter Rogers for nine films in the Carry On franchise.
Dad's Army

[

]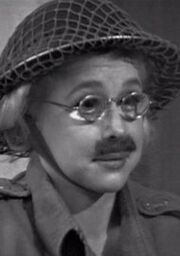 In Shooting Pains, Barbara played Laura La Plaz. In the radio episode Present Arms which contained some elements from Barbara's episode of the appearance in the television series, her part was replaced by Norman Bird as Bert Postlethwaite.
Other acting work and later career
[
]
Barbara was best remembered as Peggy Mitchell from EastEnders.