Carl Jaffé
(1926-1974) played
Captain Winogrodzki
in the 
Dad's Army
franchise.
Biography
Edit
Early life and career
Carl Jaffé was born in Hamburg, Germany. In 1936, he came as a refugee to live in England.
Early acting career
Edit
Although Carl was already a well known actor back in his home country, his lack of knowledge about the English language held him back. Once he became a fleuant English speaker and secured himself a casting agent, J. B. Priestley offered Carl a part in his play of People at Sea. At this point, Carl was spotted by Raymond Massey who recruited him for his West End show of Idiot's Delight. After that he started to get work in feature film material, often playing official and aristocratic characters.
Dad's ArmyEdit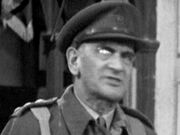 Carl played the Polish officer Captain Winogrodski in both the television and radio version of The Enemy Within the Gates.
Final years and death
Edit
Carl Jaffé died in London on April 12th, 1974, aged 72.
Community content is available under
CC-BY-SA
unless otherwise noted.