Actor
Charles Hill
Born
Unknown
Died
1981
First appearance
Command Decision (television)
Last appearance
Wake-Up Walmington (television)
Series
1 and 9 (television)
Episode count
3 (television)
Charles Hill played various characters in Dad's Army.
Biography
[
]
Early life and career
[
]
Charles Hill was born in Ulverston of the Lake District. Before attending RADA for a six-month restraining course, upon demobilisation from the navy during the war, he worked in insurance as a day job and only acting for an amateur society in the evening.
Early acting career
[
]
Charles became a member of various local acting companies and he once won a silver cup at the Skipton Drama Festival for the best individual performance.
He first made his television debut in Bisto adverts, but soon built up his career by appearing in television shows like Hugh and I produced and directed by David Croft. He has also appeared in quite a few films, most notably The Millionairess.
Dad's Army

[

]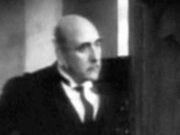 Charles' appeared quite often in Dad's Army as bulters. He played Captain Square's bulter Parkins in Command Decision and Battle of the Giants. In the latter episode Captain Square made Charles' character his sergeant in the Eastgate platoon, but later decided that despite being a "damn good bulter" he was a "rotton sergeant". He later played a completely different butler in Wake Up Walmington known as Perkins; this was his final performance on television.
Final years and death
[
]
Charles Hill died of cancer in 1981.