Actor
Clive Dunn
Born
9th January 1920
Died
6th November 2012 (aged 92)
First appearance
The Man and the Hour
Last appearance
Never Too Old
Series
1 - 9
Episode count
80
Clive Robert Benjamin Dunn, OBE (9th January 1920 - 6th November 2012) was a English actor, comedian and author who is best known for his role as Lance-Corporal Jack Jones in the British sitcom Dad's Army.
Biography
[
]
Dunn was born in Covent Garden, Westminster. After leaving school Dunn studied with the Italia Conti. Dunn played small film roles from the 1930s onwards, appearing in the films Boys Will Be Boys (1935) and Good Morning, Boys (1937). After a break for service in the army with the 4th Queen's Own Hussars during the Second World War (during the course of which he spent four years in prisoner-of-war and labour camps in Austria), he worked for many years in music halls and theatres. In 1956 and 1957, Dunn appeared in both series of The Tony Hancock Show and the army reunion party episode of Hancock's Half Hour in 1960. In the 1960s he made many appearances with Tony Hancock, Michael Bentine, Dora Bryan and Dick Emery, among others, before winning the role of Lance Corporal Jones in Dad's Army in 1968.
From an early time Dunn's trademark character was that of a doddering old man. This first made an impression in the show Bootsie and Snudge; Dunn played the old dogsbody at a slightly seedy gentlemen's club.
In 1967 he made a guest appearance in an episode of The Avengers, playing the proprietor of a toy shop in "Something Nasty in the Nursery". He was also one of the alien voices in the Cadbury's Smash advertisements in the 1970s, alongside Dad's Army co-star Bill Pertwee.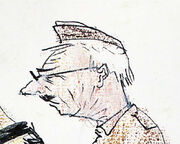 Dunn was one of the younger members of the Dad's Army cast when, at 48, he took on the role of the elderly butcher whose military service in earlier wars made him the most experienced member of the Walmington-on-Sea Home Guard, as well as one of the most decrepit.
Dunn's staunch Socialist beliefs often caused him to fall out with Arthur Lowe, who played Captain Mainwaring and who was an active Conservative. When the series ended and Dunn finally accepted an OBE, after many offers, it was reported that Lowe would only accept a higher-rated honour from the Queen.
After Dad's Army ended, Dunn capitalised on his skill in playing elderly character roles by playing the lead in the slapstick children's TV series Grandad, from 1979 to 1984 (he played the caretaker at a village hall). He had previously had a number one hit single with the song "Grandad" on his 51st birthday in January 1971, accompanied by a children's choir. After the cancellation of Grandad in 1984, he effectively disappeared from the screen, retiring to Portugal with his wife Priscilla and two children, where he lived until his death on 6th November 2012, following complications from an operation.