Actor
David Davenport
Born
26th December 1921
Died
27th November 1995 (aged 73)
First appearance
The Enemy Within the Gates (television)
Last appearance
Series
1 (television)
Episode count
1 (television)
David Davenport (1921-1995) played the Military Police Sgt. in the Dad's Army episode The Enemy Within the Gates.
Biography
[
]
Early life and career
David Davenport was born in Fairhill, Berkhamsted where he went to school. At the age of 12, he was given ballet lessons by the dancer Anton Dolin, a close friend of his mother's. After a year at Stowe College, he left to join London's Cone Ripman Ballet School full time and by 1938, he was dancing with the Lydia Kyasht Russian Ballet and then the Royal Ballet four years later. David's dancing career was interrupted by being a wireless operator in the RAF. between 1942 and 1946.
Early acting career
[
]
In the early 1950's, David started to concentrate on musical theatre work and within that, his talent then spread to film and television. His many screen appearances also include various Carry On films.
Dad's Army

[

]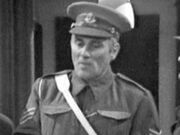 David played the Millitary Police Sgt. in Dad's Army's fourth episode The Enemy Within the Gates. In the radio series, his part was taken over by David Sinclair.
Final years and death
[
]
David Davenport's final screen appearance was in 84 Charing Cross Road and his last piece of acting work before this was broadcast was in the 1986 West End show of The Secret Diary of Adrian Mole. After this, bad health prevented him from working anymore and he eventually died in London on November 27th, 1995, aged 73.