Actor
Frank Williams
Born
2nd July 1931
First appearance
The Armoured Might of Lance Corporal Jones (television),

The Bullet is Not for Firing

(radio)
Last appearance
Never Too Old (television),

Turkey Dinner

(radio)
Series
3 - 9 (television), 1 - 3 (radio)
Episode count
40 (television), 13 (radio)
Frank Williams (born 2nd July 1931) was best known for playing the Vicar in Dad's Army from 1969 until 1977. 
Biography
[
]
Early life and career
[
]
Frank Williams was born in London. He was educated at the later-to-come Hendon County School and Ardingly College in Wessex.
Early acting career
[
]
Whilst still in his final year at Hendon School, Frank played the lead role in the school play which happened to be The Ghost Train, written by Arnold Ridley. Frank probably made his face most well known for the first as Captain Pocket in The Army Game.
Dad's Army

[

]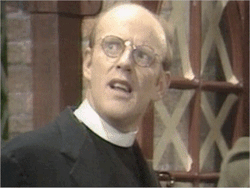 Frank Williams made his debut as the Vicar of St. Aldhem's Church in the very first colour episode. At the time, he thought it was just going to be a one-off role and never asumed that it would keep on coming back again so often until he was in every episode of the last series.
When the Dad's Army stage show went on tour in 1976, Frank filmed the events surrounding the Manchester venue on his recently purchased cine camera. The silent fifteen-minute long film was later released with added commentary from Frank as special feature on the Dad's Army Christmas Specials DVD.
Other acting work and later career
[
]
In 1988 Frank played another vicar in one episode of another Jimmy Perry and David Croft sitcom, Hi-de-Hi!. He also played Charles the Bishop in You Rang, M'Lord?. Between 1985 and 2000, Frank served three terms as a member of the General Synod of the Church of England.
In 2000, when the Queen Mother turned 100, Frank joined the rest of the surviving Dad's Army cast members for the birthday parade as Dad's Army was her favourite television programme.
In 2002, Frank published his autobiography, which he entitled Vicar to Dad's Army.
In 2015, he returned to the role of The Reverend Timothy Farthing for the new Dad's Army (2016 Film).
Trivia
[
]
Frank Williams still possesses the Vicar's original wire-rimmed glasses from the show.
Following the death of Pamela Cundell on 14th February 2015, he and Ian Lavender are the last surviving major cast members.