Actor
Geoffrey Lumsden
Born
26th December 1914
Died
4th March 1984 (aged 69)
First appearance
Command Decision (television), Command Decision (radio)
Last appearance
Wake Up Walmington (television), Fallan Idol (radio)
Series
1, 2, 4, 5 and 9 (television), 1 and 2 (radio)
Episode count
8 (television), 7 (radio)
Geoffrey Lumsden
 (26th December 1914 – 4th March 1984) played
Captain Square
in the 
Dad's Army
franchise.
Biography
Edit
Early life and career
Edit
Geoffrey Lumsden was born in London. By the time he had left school, both his parents had died. Whilst living with his uncle and reluctantly training as an engineer at a colliery, he helped to organise several concerts there. Releasing then that his future lay with the entertainment industry, he left the mines and won a scholarship which allowed him to train at RADA. In between his busy rep work, WWII broke out and Geoffrey joined the army in Burma.
Early acting career
Edit
After leaving the army, Geoffrey returned to his rep work in Dundee. In 1952 he started to work for television.
Dad's ArmyEdit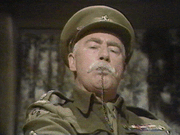 Geoffrey first appeared in
Dad's Army 
as
Colonel Square
 in the first season episode
Command Decision
. His character was very interested in making his former guerrilla warfare mark on the Walmington Home Guard, but in Season 4, he became the captain of the Eastgate platoon, which later became one of the main rivals of Walmington's platoon. Geoffrey also played the part of Square for the radio series.
Final years and death
Edit
Geoffrey Lumsden died in London, March 4th, 1984, aged 69.
Community content is available under
CC-BY-SA
unless otherwise noted.