Actor
James Copland
Born
1st May 1918
Died
17th April 2002 (aged 83)
First appearance
Operation Kilt
Last appearance
Series
2
Episode count
1
 James Copeland (1st May 1918 – 17th April 2002) played Captain Ogilvy in Dad's Army.
Biography
[
]
Early life and career
[
]
James Copeland was born in Helensburgh, Dumbartonshire. As the boy of a house painter, He earned his pocket money by assisting the local milkman on his rounds. After he left school, James helped his grandfather as a shoe repairer, but he did not enjoy this very much as he wanted to become a journalist, so he decided to study short-hand and typing at a night school. In 1938, before James could persue his chosen career, he was sent to work at an aircraft factory in Glasgow. In his spare time he tried his hand at amateur acting and writing, before joining the Air Auxiliary Transport as a flight engineer in 1943. After the war, he spent three years as a policeman in Dumbarton and even had a spell as a water bailiff.
Early acting career
[
]
After a life of such varied career choices, James finally decided that he wanted to be an actor, so he studied at Glasgow's Citizen's Theatre in the evenings. His breakthrough came straight after appearing in Three Estates at the Edinburgh Festival in 1951. The Citizen's Theatre employed him full-time and it was not long before he started getting work in many a film and televison show.
Dad's Army

[

]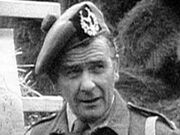 In the first episode of Season 2, James played the Highlander Captain Ogilvy. In the radio version of Operation Kilt, Jack Watson took over James' role.
Other acting work and later career
[
]
James also appeared in one episode of David Croft's other sitcom, Are You Being Served?.
Final years and death
[
]
James Copeland's final role was as a jailer in the 1991 film A Rage in Harlem. In 2002 on April 17th, he died in London at the age of 83.
Trivia
[
]