Jimmy Perry



Born

20 September 1923

Died

23 October 2016 (aged 93)
Jimmy Perry OBE (born 20 September 1923 in Barnes, London – 23 October 2016) was an English writer, scriptwriter, producer, author and actor, most famous for creating and co-writing the BBC sitcom Dad's Army with David Croft.
Biography
[
]
Perry is credited with the original idea for Dad's Army, which was based on his experiences in the Home Guard during World War II. He also collaborated with Croft on It Ain't Half Hot Mum, Hi-de-Hi! & You Rang, M'Lord?
Many of the sitcoms Perry co-wrote with Croft drew heavily on his personal experience: at 16 he joined the Watford Home Guard (Dad's Army).
Dad's Army character, mummy's boy Private Pike, was based upon teenage Jimmy Perry, who said, "She didn't go so far as making me wear a scarf, but she came pretty near".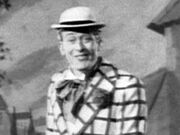 Jimmy's original hope was to write "Dad's Army" to give himself a good part for him compared to very small roles he had before as an actor, so he wrote himself the part of Walker. However, David Croft pointed out that it would be unwise to right himself a major part in the series, otherwise all the actors might have thought Jimmy was given himself the best lines, so James Beck was cast instead. Perry however did get one chance to appear in the series; in the sixth episode of the first series, Shooting Pains, he makes a cameo appearance as the entertainer Charlie Cheeseman.
Although best known for his comedy writing, Perry has also experienced musical success, composing the signature tunes to all of the above comedy series. The most well-known of these, the theme tune for Dad's Army, "Who Do You Think You Are Kidding, Mr Hitler?", won the Ivor Novello Award in 1971 for Best TV Signature Tune.
Perry died on 23 October 2016 after a short illness, aged 93. He was survived by his partner, the costume designer Mary Husband.
Gallery
[
]