Actor
John Le Mesurier
Born
5th April 1912
Died
15th November 1983 (aged 71)
First appearance
The Man and the Hour
Last appearance
Never Too Old
Series
1 - 9
Episode count
80
John Le Mesurier (born John Elton Le Mesurier Halliley, 5th April 1912 – 15th November 1983) was a BAFTA Award-winning English actor. He is best remembered for his role as Sergeant Arthur Wilson in the popular BBC comedy Dad's Army.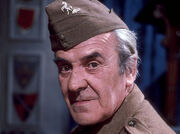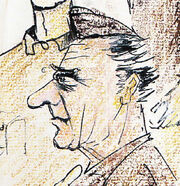 Biography
[
]
John Le Mesurier (Born John Elton Le Mesurier Halliley; 5 April 1912 – 15 November 1983) was an English actor. He is perhaps best remembered for his comedic role as Sergeant Arthur Wilson in the BBC television situation comedy Dad's Army (1968–77). A self-confessed "jobbing actor", Le Mesurier appeared in more than 120 films across a range of genres, normally in smaller supporting parts.
Le Mesurier became interested in the stage as a young adult and enrolled at the Fay Compton Studio of Dramatic Art in 1933. From there he took a position in repertory theatre and made his stage debut in September 1934 at the Palladium Theatre in Edinburgh in the J. B. Priestley play Dangerous Corner. He later accepted an offer to work with Alec Guinness in a John Gielgud production of Hamlet. He first appeared on television in 1938 as Seigneur de Miolans in the BBC broadcast of The Marvellous History of St Bernard. During the Second World War Le Mesurier was posted to British India, as a captain with the Royal Tank Regiment. He returned to acting and made his film debut in 1948, starring in the second feature comedy short Death in the Hand, opposite Esme Percy and Ernest Jay. He undertook a number of roles on television in 1951 including Educating Archie alongside Tony Hancock.
Le Mesurier had a prolific film career, appearing mostly in comedies, usually in roles portraying figures of authority such as army officers, policemen and judges. As well as Hancock's Half Hour, Le Mesurier appeared in Hancock's two principal films, The Rebel and The Punch and Judy Man. In 1971 Le Mesurier received his only award: a British Academy of Film and Television Arts "Best Television Actor" award for his lead performance in Dennis Potter's television play Traitor; it was one of the few lead roles he played during the course of his career.
He took a relaxed approach to acting and felt that his parts were those of "a decent chap all at sea in a chaotic world not of his own making". Le Mesurier was married three times, most notably to the actress Hattie Jacques. A heavy drinker of alcohol for most of his life, Le Mesurier died in 1983, aged 71, from a stomach haemorrhage, brought about by a complication of cirrhosis of the liver. After his death, critics reflected that, for an actor who normally took minor roles, the viewing public were "enormously fond of him".