Actor
John Ringham
Born
10th February 1928
Died
20th October 2008 (aged 80)
First appearance
The Man and the Hour (television)

Room at the Bottom

(radio)
Last appearance
Don't Fence Me In (television)

Don't Fence Me In

(radio)
Series
1 - 4 (television), 1 and 2 (radio)
Episode count
5 (television) 2 (radio)
John Ringham (10th February 1928 – 20th October 2008) played various characters in the Dad's Army franchise.
Biography
[
]
Early life and career
[
]
John Ringham was born in Cheltenham, Gloucestershire. He was educated at the Cheltenham Grammar School. 1946-8 saw him serving with the British Army in Palestine and Egypt, but he was not very good at it, as he lost a couple of hundred of his men whilst out in the Egyptian desert.
Early acting career
[
]
During the second world war John was part of an amateur dramatics society. In 1948, he became a professional actor. After eleven years in rep, he made his television debut in one episode of Hawkeye and the Last of the Mohicans.
Dad's Army

[

]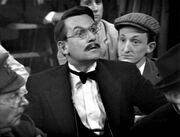 John was first recruited to play a main character in Dad's Army known as Private Bracewell. However it was later decided that eight main characters was too many for the show, so Bracewell was only written into the first episode and John Ringham did join the main seven during the closing credits' sequence. The writers felt that Bracewell's character was rather too similar to Private Godfrey, if a bit more upper-class. John was slightly relieved that he was not a main character; he did not want to be run down by pressures of working on a long-running series. He was however happy to return occasionally for the next three seasons as Captain Bailey from GHQ. He later appeared in two radio episodes as Captain Turner, with a spell in between of the aforementioned character being played by Timothy Bateson in one episode.
Other acting work and later career
[
]
After Dad's Army, John worked in various shows alongside Arthur Lowe like Bless Me, Father and also featured in one episode of David Croft other sitcom Are You Being Served?
Final years and death
[
]
John Ringham died of cancer on October 20th, 2008, aged 80.