Actor
Larry Martyn
Born
22nd March 1934
Died
7th August 1994 (aged 60)
First appearance
The Loneliness of the Long Distance Walker (television), Present Arms (radio)
Last appearance

The Desperate Drive of Corporal Jones

(television)

Ten Seconds From Now

(radio)
Series
2 - 5 (Television Series), 2 - 3 (Radio Series)
Episode count
4 (Television Series), 33 (Radio Series)
Larry Martyn (22nd March 1934 – 7th August 1994) played various characters in the Dad's Army franchise, particually Private Walker in the second and third seasons of the radio series.
Biography
[
]
Early life and career
[
]
Larry Martyn was born in London. He used to be a member of the parachute regiment in the army.
Early acting career
[
]
Larry first entered in the entertainment industry in the 1950's, working as a variety singer and comedian until he turned 22. In his early years of television work, he mainly played a lot of roles in drama, that is until the 1970's. From this point onwards, he became better known for his roles in light entertainment.
Dad's Army

[

]
Between season 2 - 5 of the Dad's Army television series, Larry often played one off characters one episode each season. He appeared as a soldier in The Loneliness of the Long Distance Walker and the first shot of Menace from the Deep,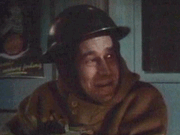 an Italian POW in Don't Fence Me In and the signalman in

The Desperate Drive of Corporal Jones

. In 1974, Larry took over the role of Private Walker in the radio series. He first recorded

Brain Versus Brawn

, but the first broadcast episode to feature him was the 1974 Christmas special Present Arms.
Other acting work and later career
[
]
Larry is probably best remembered as Mr. Mash from the first three seasons of David Croft's other sitcom Are You Being Served?
Final years and death
[
]
Larry Martyn died at the age of 60 in Kent.
Personal life
[
]
Even after he left the army, Larry continued his parachuting skills as a hobby.