Actor
Leon Cortez
Born
27th May 1898
Died
31st December 1970 (aged 72)
First appearance
Museum Piece (television)
Last appearance
Man Hunt (television)
Series
1 and 3 (television)
Episode count
2 (television)
Leon Cortez (27th May 1898 – 31st December 1970) played various characters in Dad's Army.
Biography
[
]
Early life and career
[
]
Leon Cortez was born in London. He served in the army during the First World War. He then went into cinema management before turning to the stage as a profession.
Early acting career
[
]
As a well known Cockney comedian and variety actor, Leon's radio voice was best remembered for being heard in his Cockney Coster Band and Happy Half-Hour. He was also well known for his Shakespearean comedy monologues. Apart from his frequent film and television roles, he continued to work on the stage throughout the majority of his life and regularly performed in various pantomimes.
Dad's Army

[

]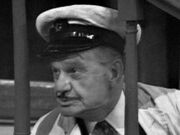 In Dad's Army's second first season episode Museum Piece, Leon appeared as Henry the Milkman and he also played the Small Man in Man Hunt.
Final years and death
[
]
Leon Cortez was just on the verge of rehearsing for two other televisual plays when he suddenly died in Brighton, East Sussex, December 31st, 1970. He was aged 72.