Pamela Cundell (15th January 1920 - 14th February 2015) is best known for playing Mrs. Fox in the television series of Dad's Army from 1969 until 1977.
Biography
[
]
Early life and career
[
]
Pamela Cundell was born in Croydon, Surrey. Both her parents were in the entertainment business and she never felt that she wanted to do anything else. She got her training at the Guildhall School of Music and Drama.
Early acting career
[
]
Pamela soon went into the work of stand-up comedy for repertory companies and summer tours. She started working on television in 1957.
Dad's Army

[

]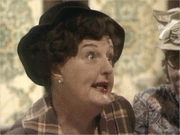 David Croft first discovered Pamela Cundell before the third series of Dad's Army began. In a show with Ian Carmichael, Pamela was playing the part of a fortune teller who, when the show finished, had to look at the camera, say "It'll all become right in the end." and give a very cheeky wink. David was in the audience watching this show and he felt that Pamela was just what he needed for the part of the woman who would leave the butcher's shop and say to Mr. Jones "I'll be in later in the week." with an equally mysterious wink.
Pamela's role became known as Mrs. Fox because Mary Husband of the BBC's costume department would often dress her with a fox fur.
Pamela appeared as Mrs. Fox in thirteen episodes throughtout every season of the television series since her debut in the first episode of the third season, except for the eight season as the character was not written into any episode that year. She also appeared as Mrs. Fox and the British Restaurant Lady in the Dad's Army stage show, but only for the venues at Billingham and London's West End. When the show went on tour, Peggy Ashby took Pamela's place as Mrs. Fox and the British Restaurant Lady was cut from the production.
In the radio series of Dad's Army, Pamela's part of Mrs. Fox given to Mollie Sugden who was best known for playing Mrs. Slocombe in David Croft's other sitcom, Are You Being Served? of which Pamela appeared in one episode in 1975.
Other acting work and later career
[
]
Pamela was reunited with her "Dad's Army screen husband at the end of the series" Clive Dunn in a few episodes of his last show before retirement, Grandad.
Final years and death
[
]
Cundell made many appearances at various Dad's Army fan forums and on local TV and radio programmes before she died on 14th February 2015 at the age of 95.