Actor
Pearl Hackney
Born
28th October 1916
Died
18th September 2009 (aged 92)
First appearance

The Armoured Might of Lance Corporal Jones

Last appearance

Turkey Dinner

Series
1 - 3 (Radio Series)
Episode count
14 (Radio Series)
 Pearl Hackney (28th October 1916 – 18th September 2009) played Mrs. Pike in the radio series of Dad's Army from 1974 until 1976.
Biography
[
]
Early life and career
[
]
Pearl Hackney was born in Burton-on-Trent. At the age of 5, she trained as a ballet dance and after leaving school, she became a principal dancer for four years at the Windmill Theatre in London.
Early acting career
[
]
Pearl started acting in the late 1930's. At the time, she mainly worked for repertory and radio. She started acting on television in the 1950 short The Newcomer and then the following year appeared in various episodes of The Eric Barker Half-Hour with her husband Eric Barker the comedian.
Dad's Army

[

]
Pearl took over the role of Mrs. Pike from Janet Davies in the radio series of Dad's Army.
Other acting work and later career
[
]
Pearl also appeared in one episode of David Croft's, Are You Being Served? (she played Mrs. Grainger, the wife of Arthur Brough's character) and Hi-de-Hi! by David Croft and Jimmy Perry.
Final years and death
[
]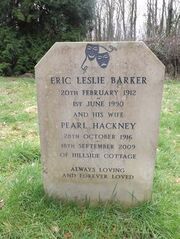 When she was in her early 70's, Pearl Hackney retired from acting, after appearing in a second episode of All Creatures Great and Small. For the rest of her life, she lived at Hillside Cottage in Kent where she was a member of the Stalisfield Parish Council. She died at the age of 92 on September 18th, 2009. She was buried at St. Mary's Churchyard with her late husband Eric Barker who died June 1st, 1990, aged 78.