Robert Raglan
 (1906 – 1985) played various characters in the 
Dad's Army
franchise.
Biography
Edit
Early life and career
Edit
Robert Raglan was born in Reigate, Surrey. After leaving school, he joined a water company office. During WWWII, Robert served in the REME and then toured overseas with ENSA.
Early acting career
Edit
Inspired by his brother James, Robert left his job at the water company to go to drama school. He later worked for various reps until WWII broke out. When he got demobbed, he started acting for film and television. He was often cast as policeman and military officials.
Dad's ArmyEdit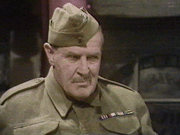 Robert first appeared in
Dad's Army 
as
Captain Square
's sergeant in the fourth season episode
Don't Forget the Diver
. Later on in this season, he appeared in two episodes as
Captain Pritchard
. Next he appeared in the
Dad's Army Movie
as Police
Inspector Hardcastle
.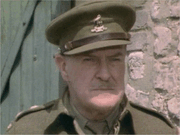 From
Battle of the Giants
up to the end of Season 9, Robert played
Colonel Pritchard
who would often come to Walmington from GHQ to inspect the Home Guard troops. He also played
Colonel Pritchard
in one of the radio episodes.
Other acting work and later career
Edit
He has also appeared in David Croft's other sitcom Are You Being Served?
Final years and death
Edit
After suffering two heart attacks during a West End production, Robert retired from stage work and concentrated maining on television. He died in 1985.
Community content is available under
CC-BY-SA
unless otherwise noted.