Swallow Bank Ltd. was a bank located in Walmington-on-Sea. It was one of a chain of banks co-ordinated by the company's Head Office; other banks under the same duristiction included the Eastgate and Hastings branches. During a period starting before 1940 and to at least significantly after the disbanding of the Home Guard, it was managed by George Mainwaring.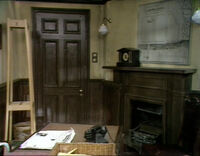 During the Second World War, the manager's office was utilised as a machine gun post which was able to cover the High Street from the Novelty Rock Emporium to Timothy White's. In 1940, the wireless in the office was utilised by Mainwaring, Wilson and Miss. King to tune in to Anthony Eden's announcement about the formation of the Local Defence Volunteers, later the Home Guard (The Man and the Hour).
A year or so later, a bomb fell through the roof and floor of Mainwaring's office into the vault, resulting in a sticky situation for Mainwaring and Wilson, who were left holding the unexploded device. It was eventually defused by Captain Rogers of the Bomb Disposal Unit (Something Nasty in the Vault).
In the TV series, Mainwaring's Bank was always meant to be called Martins. The bank is mentioned by name in at least two early episodes. For some reason the BBC decided it would be "less confusing" to viewers if a fictitious bank name was adopted, hence "Swallow", sometimes "Swallow's bank".
However, in the feature film of the series, the bank was renamed from "Swallow" bank to "Martins", and a pub in Chalfont St Giles was used as the bank. See www.martinsbank.co.uk for more information.
For the 2016 film the bank was once more know an 'Swallow Bank'.
Community content is available under
CC-BY-SA
unless otherwise noted.