Thérèse McMurray played various parts in Dad's Army.
Biography
[
]
Early life and career
Thérèse McMurray was born in Herne Bay, Kent.
Early acting career
[
]
Thérèse made her acting debut in Snow White at St. Mary's Convent in Whitstable. She had previously trained at Saturday drama classes for Italia Conti Stage School. At the age of 18, she was cast as Nurse Parkin for two years in Emergency - Ward 10 and later kept the nurse's outfit for an appearance in Hugh and I, produced by David Croft.
Dad's Army

[

]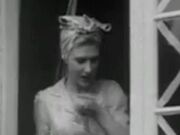 In The Showing Up of Corporal Jones  and Shooting Pains,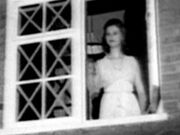 Thérèse played a girl at a window who turned out to be Private Walker's girl friend in the latter. She then appeared as a girl in a haystack in The Day the Balloon Went Up.
Other acting work and later career
[
]
Thérèse also appeared as a lady customer in David Croft's other sitcom, Are You Being Served? In 1981, three years after appearing in the mini-series Pennies from Heaven, she retired from acting to bring up her family. She then went on to run a production company, writing and producing corporate videos.