The Loneliness of the Long Distance Walker
Series 2, Episode 3

Air Date
15th March 1969 (original)
25th August 2019 (remake)
Written by
Jimmy Perry & David Croft
Director
David Croft (original)
Ben Kellett (remake)
Producer
David Croft (original)
Ben Kellett and Candida Julian-Jones (remake)
Length
30 minutes
Original Audience Figures
11.3 Million
Previous episode
The Battle of Godfrey's Cottage
Next episode
Sgt. Wilson's Little Secret
List of episodes
The Loneliness of the Long Distance Walker is the third episode of the second series of Dad's Army, which was originally transmitted on Saturday 15th March 1969. It is currently one of three episodes absent from the BBC's archives.
Synopsis
[
]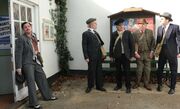 To his complete surprise, Walker receives his call-up papers. Mainwaring tries his best to get his superiors to reconsider.
Plot
[
]
When Walker is called up, he applies to the Military Service Hardship Committee, who reject him on the grounds that he does not keep books for his business. After Jones's attempts to sabotage Walker's medical test fail, Walker has no choice but to accept his conscription. However, Walker is swiftly invalided out of the Army after he is discovered to be allergic to corned beef, the staple diet of the troops.
Cast
[
]
Main cast
[
]
Supporting cast
[
]
Remake cast
[
]
Main cast
[
]
Kevin McNally as Captain Mainwaring
Robert Bathurst as Sergeant Wilson
Kevin Eldon as Lance Corporal Jones
David Hayman as Private Frazer
Mathew Horne as Private Walker
Timothy West as Private Godfrey
Tom Rosenthal as Private Pike
Supporting cast
[
]
Christopher Villiers as Brigadier (War Office)
Sam Phillips as Captain Cutts
Julia Deakin as the Chairwoman
Andrew Havill as the Brigadier
Jerry-Jane Pears as Judy
Gareth Benjamin as Mr Rees
Lee Barnett as the soldier
Notes
[
]
This episode is currently missing from the BBC's television archives after they wiped the master transmission tapes for reuse. This is one of three Dad's Army episodes that are still missing from the archives; the other two are A Stripe for Frazer (which currently exists only on audio) and Under Fire. The radio version still exists.
This episode, along with the other two missing from Series 2, was remade by UKTV GOLD with a new cast, and was broadcast in August 2019.