Under Fire is the sixth episode of the second series of Dad's Army, which was originally transmitted on Saturday 5th April 1969. It is currently one of three episodes absent from the BBC's archives.
The platoon arrest a suspicious gentleman whilst on fire watch, but the truth is soon revealed.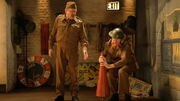 The platoon arrest a suspect agent, who insists on being a British citizen, despite his accent, and the fact that he has a dog called Fritz. He attempts to help them put out a fire in the church hall, and is then found to be Warden Hodges' uncle. He comments that he doesn't know how Britain will win the war, and Wilson agrees.
Kevin McNally as Captain Mainwaring
Robert Bathurst as Sergeant Wilson
Kevin Eldon as Lance Corporal Jones
David Hayman as Private Frazer
Mathew Horne as Private Walker
Timothy West as Private Godfrey
Tom Rosenthal as Private Pike
Tracy-Ann Oberman as Mavis Pike
Simon Ludders as ARP Warden Hodges
David Horovitch as Corporal-Colonel Square
William Andrews as Captain Bailey
Tamzin Griffin as Mrs Keen
Thelma Ruby as Mrs Witt
Philip Pope as Sigmund Murphy
Joann Condon as the woman
This episode is currently missing from the BBC's television archives after they wiped the master transmission tapes for reuse to reuse. This is one of three Dad's Army episodes still missing from the archives. The other two are The Loneliness of the Long Distance Walker and A Stripe for Frazer, with the latter currently existing only on audio. The radio version still exists.
This episode was originally planned for transmission on 3rd February at 7:30pm
This episode, along with the other two missing from Series 2, was remade by UKTV GOLD with a new cast, and was broadcast in August 2019.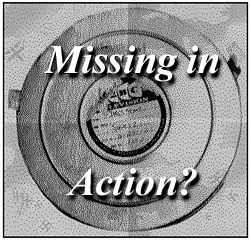 Community content is available under
CC-BY-SA
unless otherwise noted.