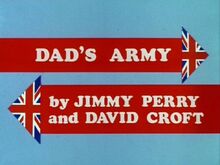 About me
[
]
Hi welcome to my page!
[
]
I have been a Dad's Army fan for many years now. My first experience of Dad's Army was the repeats shown on BBC Two and the 1971 film. It is one of my favourite TV comedies, and my favourite charcters in the series are Pike and Walker.
Me on Wikia
[
]
I am an Admin on the wiki and have been around since 2010. I used to be a regular Wikia User, although lately due to time constraints I've not been editing. When I do find the time however I can usually be found here or at the F1 History Wiki. I know my way round most of wiki's features, so if you ever need any help with something, what ever it is, just send me a message on my talk page!
Dad's Army Stuff
[
]
Latest Episode Watched 2016 Film
My favorite Charcaters
[
]